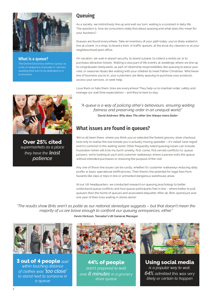 THE DEFINITIVE GUIDE TO QUEUE MANAGEMENT
Queuing is part of everyday life and is something that we instinctively do as a society. The question is, how do consumers really feel about queuing and what does this mean for your business?
We're experts in managing queues to improve the customer journey in scenarios in which queues exist.


We've put together our Definitive Guide to Queue Management that covers all aspects of queuing, including:
An introduction to queuing
Common issues that are found in queues
Ensuring accessibility for all customers
The future of queuing
Our tips to improve the customer waiting experience
We've also included 3 very different real-life case studies to show how our products have been used to solve various queuing issues in the hospitality, events and healthcare industries.
To get your free copy of the guide, please fill out the form to the right. We'll also send you a copy of this resource via email.